Dates
6th March - 30th October 2019
even weeks
Duration
17 Wednesdays, 19.00-20.30
Are you feeling hopeless about the alarming climate news?
Do you KNOW what to do, but find it hard to DO it? – lifestyle, activism, engaging in discussions?
Are you concerned of how to promote another way of living without replicating the domination paradigm in our change initiatives?
Join this community of change makers in an 8 months online exploration and building capacity for care, courage and connection.
Expect to:
Find your courage
Soften your inner dialogue
Experience choice
Know how to say NO
Ask for what you want
Improve your relationships
Do what you decide to do—while in full integrity
Grow new friends
This world – over consumption, instrumental relating with the natural world – is suffering. Life itself is threatened, according to some forecasts. If we want our grandchildren and their grandchildren to lead lives in dignity, WE need to do something drastic. Now.
But there is such a lot to address. Tech solutions are needed, courageous political leadership, and drastic change in our lifestyle to regenerate instead of deplete the Earth. At the basis of the needed changes are we humans. How can we act as one shared brain on the quest of just and sustainable solutions where everybody's needs matter?
This webinar series takes you into the engine of human relationships through the lens of green transition and preparing for a better world. You will get closer to yourself, your brain and your heart, and what keeps you from speaking your truth. You will grow communication skills to engage with a warm heart even in the heat of challenging conversations. You will come to understand that what drives all of us – no matter what our stands are – is a basic set of human conditions. We are one.
Download the PDF with contents: Preparing for a better world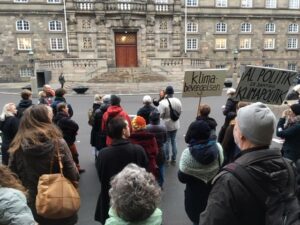 What is my investment?
The series is a pay-what-you-want-if-you-want experience for green activists.
For others, I request payment at a sliding scale 600-3.000 kr./ 80-400 €/ 70-350 £ for the full series. I request commitment to step in fully in order to get full benefit, not just for yourself but also for every other participant. We need each other to do this work. The first webinar will give you a sense of what the series offers you, and before 2nd webinar, I ask for your commitment. If you pay less than 600 kr./ 80 €/ 70 £ for the full series, I ask for a no-show fee of 100 kr./ 15 €/ 12 £ per webinar you don't show up for without letting me know.
What if I can't join a webinar?
All webinars will be audio recorded and presentations and other materials available at an online location. Audio recordings and materials might be used for other purposes later and participants' identity will never be revealed; in addition, every participant can at any time ask for having the recorder turned off or piece of the recording deleted if they don't want their voice to be heard.
When does this awesome series begin?
Beginning 6th March, webinars take place every other Wednesday at 19.00-20.30 Central European Time, followed by 30 minutes sharing  and Q&A.
Date exceptions:
Tuesday, 2nd April replaces Wed 3rd April.
No class on 24th July.
Recordings, presentations and other materials will be available online—for you to keep and use forever.
Write me an email on pernille@businessbyheart.dk with questions - or just enroll.
Content
Swype through the pictures beneath and get more info about the actual themes during our webinars.
WHEN?
Wednesdays in even weeks, beginning 6th March 2019
Where?
Online from your home
Number of participants?
10-25
Cost
Sliding scale 600-3.000 DKK.  Green activist 0-3.000 DKK