The modules focus on three different methodologies with which the coach can work with their client: Working with the shadow, working with the big vision, or work with the client's innate power to shine.
You may sign up for the whole course or choose one or two of the modules.
Module 1: IF YOUR SHADOW COULD SPEAK…
What runs your life – fear? Ambition? Wanting to prove something? Many decisions are made subconsciously and for reasons we are not aware of. Reasons that have their origin in painful experiences that our subconscious mind keeps trying to keep us away from re-experiencing. What we are aware of might be a voice defending our decisions against imaginary offenders or a nagging voice inside, commenting on everything we do in a far-from-supportive language.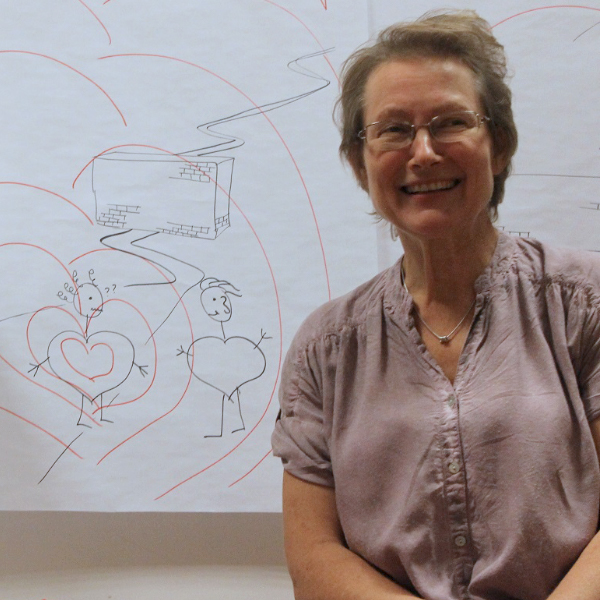 Our inner dialogue can be like a chaotic gathering of agitated people, or it can be dominated by one voice that doesn't allow any other opinion to be heard. What few people know is that the inner dialogue can change so that it becomes empathic and constructive. The path towards a gentle and supportive inner dialogue goes through healing the wounds of previous hurt.
During this workshop, you will begin getting to know each voice in your inner community, befriend the critical voices and hold the hurt parts within with warmth and care. It enables you to move through current life decisions from a composed state, rather than fear. In addition, you will learn the basics of how to support others on the journey towards self-acceptance and finding a trusted, ever present ally inside.
Who is it for?
People who are familiar with NVC and longing for understanding all aspects of themselves better and arriving at a sense of wholeness and comfort.
Coaches who would like to deepen their skills in supporting their clients to radical self-acceptance
Anyone who has attended Needs-Based Coaching or similar and who would like to benefit from a training that grows their professional and human skills while they move closer to experience true and lasting peace.
This workshop is a fully interactive, all-in event. We encourage participants to bring their real-life experiences and challenges to work on. We also welcome shyness and reluctance, and we respect any protective boundary you may have.
Module 2: BRING YOUR VISION TO THE LIGHT
"WHAT IS IT THAT YOU WANT TO DO WITH THE ONE, WILD, PRECIOUS THING CALLED YOUR LIFE?" (MARY OLIVER)
What dream is your heart holding? For yourself, your dearest ones and for humanity?
This workshop heads towards the end of the rainbow. Your ultimate vision. It invites you to experience it.  How does it feel on your skin? Who is there with you?
And what has been scary so that you haven't dared to explore your vision yet? How can your fear become a resource in your pursuit of the vision?
Visioning takes courage. You will leave this workshop with lion heart, knowing your direction and ready for the first step towards it. Be cautious:  You may get what you ask for!
The workshop takes you through creative processes that stimulates your right brain, and it takes every protective, resistant voice in you seriously. You won't be asked to take a leap from the cliff. Instead, you will learn to climb the cliff and establish a way to have others come along with you.
Once you are familiar with your own vision, you will recognize how others relate to their life vision. The workshop offers you coaching skills for eliciting the dreams of the heart. You will learn how to invite your clients into a meaningful balance between sustaining their daily life and entrusting the calling from within.
Who is it for?
Coaches who are eager to boost their practice, using the client's inspiration and divine calling as a springboard
People familiar with NVC who ask themselves the question: Is this really all there is to life?
People who hold a dear dream and feel hopeless about their chances of fulfillment.
Anyone who has attended Needs-Based Coaching or similar and who would like to benefit from a training that grows their professional and human skills while they move closer to their own dream.
Expressing our heart's dream is vulnerable. Getting there is like being a turtle without shield.  Be ready to shield each other's vulnerability. Working with visions releases tension. Be ready to laugh and play like puppies. And even more important: Formulating our life vision calls for serenity. Be ready to take your life seriously.
Module 3: POWER WITHOUT GUILT
"Our deepest fear is not that we are inadequate. Our deepest fear is that we are powerful beyond measure. It is our light, not our darkness that most frightens us." (Marianne Williamson)
You might have arrived at a place where you know yourself well enough to navigate easier in life than you used to. You even know how and what to do to transform your life. Then your courage looks at you and says: "Hey come on, when are we going?" and yet, you are still here, doing the same things as yesterday. Perhaps next year?
You have empathized with all the hardship and journaled about the jackal thinking and the hurt child within. What's next? Why is the hamster wheel still spinning, or why do you find yourself in judgement or self-pity?
Perhaps you forgot to self-empathize with your achievements and your power. Perhaps there is still resistance to leaving whom you used to be who knew how to connect and where to belong.
During these three days, we will experiment with being powerful. We will distill and embrace what keeps us small and give it a safe space while we step into our power.
Be prepared to:
Experiment with sides of yourself that has been dormant
Integrate your shyness and fear in your new empowered stand
Use your body wisdom to find your voice and your position
Practice staying true to yourself while facing the world
We will work with subtle details in your body signals as well as wide strokes with the big brush of expression.
This workshop is for you if you:
Long for truth and integrity
Want to challenge yourself to be even more at choice with what you say and do
Know the right things to do but still hesitate
Believe in lots of profound stuff and yet, your life hasn't changed much
Advocate for empowerment and sometimes question your own walking the talk
Are a super hero and would like to know how to support others (clients, co-workers, children) in stepping up for their values
Moving to the next level: While we value a safe learning container for everybody, we also have ambitions around this workshop. With a mixture of NVC, coaching, neurobiology and drama, you will experience yourself in alternative styles. You will find that there are no good reasons for doing as pigs do, once rescued from the burning stable: Running back home into the flames. You will start trusting your abilities to manage the unknown – which in turn will become the known world.
About the trainer
Pernille Plantener, certified trainer in Nonviolent Communication in 2011 and certified coach from the program Coaching for Transformation in 2012 will be teaching her skills. She has been a farm advisor, project manager, process consultant and leader and self-employed coach and facilitator from 2013. She has extensive experience in the field of personal development and alternative ways of living, and has been working purposefully with Nonviolent Communication since 2002 and  teaching it since 2008. She is a member of the International Coach Federation, ICF where she holds a PCC credential. She founded and is currently running the company BusinessByHeart and serves in addition as restorative mediator for the Danish police.
Time
Module 1: If Your Shadow Could Speak
Module 2: Bring Your Vision To The Light
Module 3: Power Without Guilt
Price
From 350 € per module
Organizer
BusinessByHeart