Where?
Vissemosevej 14, Rødvig Stevns, Denmark

Be present in the present
Resonant attention and language changes the way we see ourselves. With our new eyes, we start to transform our experiences of shame, rage, terror and self-doubt into the sense that we are enough, just as we are. So that we can be present with what happens to us and in us, in the present moment.
Learn the next steps of Resonance
Have you studied with Sarah Peyton? Or did you attend the Make Your Brain a Kinder Place to Live workshop in spring 2022? Then you know by experience how resonant empathy can calm our nervous system. When we are met with understanding, when we make sense to another human being, we drop into the goodness of feeling calm and safe within and with other people.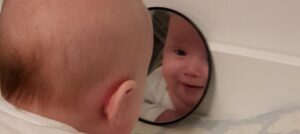 Liberate yourself from your early conditioning
You will learn the basics of attachment theory and get to identify your predominant attachment style - and to which degree you are securely and insecurely attached. Insecure attachment causes us challenge in our close relationships - and with ourselves. Even though deeply ingrained in us, patterns of insecure attachment can be healed, and we can walk towards earned secure attachment - the relationship preference of trusting ourselves while we let other people get close to us.
The insecure attachment patterns stems from early traumatic events, such as not being picked up from the cradle when we cried, or being laughed at when we needed guidance, or lots of other possible difficult moments.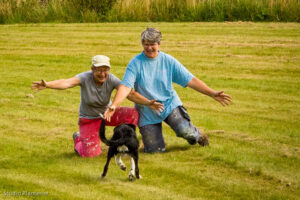 Whereas we cannot change the past, we can mend the wounds it created.
We can travel back in time in our imagination and offer acceptance and accompaniment to the little one who didn't get it back then. The basics of time travel resonance and healing these kinds of trauma is what you can expect to experience during our days together.
Early moments of painful overwhelm result most often in the creation of an algorithm in the nervous system: If this happens, I will do that, in order to avoid those consequences. Sarah Peyton calls them Sacred Vows, and they tend to stay with us for a lifetime, disregarded we have grown up long ago. You will learn to identify these special nervous system contracts and the ritual that can dissolve them, so that you get more choice in your present life.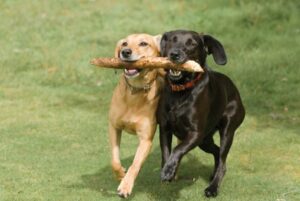 We grow each other
We are grown by each other. Whether our life experience has been dominated by warm curiosity and acceptance, or we've been met by blame and contempt, our brain is shaped by it.
This is what relational neuroscience teaches us, and it points to how to heal and change what doesn't serve us any longer. We can activate our human capacity for deep resonance with ourselves and each other, and neuron by neuron, have our brain becoming a friend, a companion. We will get to peace with our past, and our relationships with self and others will  transform.
Resonant Language® is developed from Nonviolent Communication, informed by neuroscience, and cross-pollinated with Sarah Peyton's unique feel for human emotions and talent for language, passed on to your facilitator, Pernille Plantener, who has studied intensely with Sarah since 2014.
Who is it for?
This workshop deepens your understanding of Resonant Language® and is aimed at you who want to get at peace with yourself, and who already has a basic knowledge about Nonviolent Communication (NVC) and the work of Sarah Peyton.
If you're interested in this workshop but can't answer yes to the above, please connect with me and we'll discuss how you can prepare yourself for this workshop.
What you learn will benefit you as a health care provider, a parent, a sibling, a co-worker, a partner and in other ways in relationship with other human beings, and this weekend will add to your portfolio of steps  in the dance of connection. And it will pave the next bit of your road towards peace within.
What are the workshop hours?
We start at 10 o'clock and run till 18.00 both days, with a 1 hour break in the middle of the day.
If enough wants to join, I will offer a Family Constellation on Friday evening.
What does it cost?
The workshop fee is 2.600 DKK/ 350 EUR and includes a simple, vegetarian lunch both days, and coffées, teas, and snacks, all organic.
Accommodation is not included. Among your options:
Book a Bed & Breakfast, hotel, or cabin with others nearby; we will support you to find what suits you, and assist transportation.
Pitch your tent in our permaculture/ nature fields, or sleep in our shelter, or caravan with two large beds. No charge. The first who books the caravan gets it!
Sleep in the workshop space - and clear it before next morning. No charge.
Cancellation policy
In case the workshop will be cancelled due to the pandemic, either restrictions from the government, our risk evaluation, or other things we cannot foresee now, you will get your money back.
If you get to cancel, we will engage in a conversation with you about how much of your workshop fee you get returned. Or you find someone to replace you.
We hope this will not be the case!
About the venue
Frugtlageret, The Fruit Storage, situated at Stevns, 1 hour's drive south of Copenhagen, 4 km from Rødvig Station.
It used to be a professionally driven cherry orchard. After having laid idle for 15 years, we, a community of four women, took it over in 2015 and have gently restored it, applying permaculture principles to design and cultivation. You will find sheep with lambs, horses, chicken, wild nature, and regenerative growing of food crops. The former storage building is now turned into a cozy and warm, 65 square meter workshop space.
You will find multiple options for contemplation by the camp fire in the hut, at the pond, along the creek, or in the walnut grove.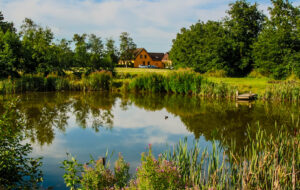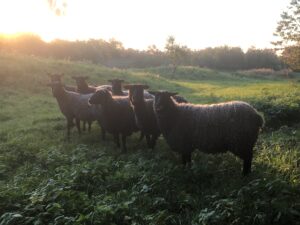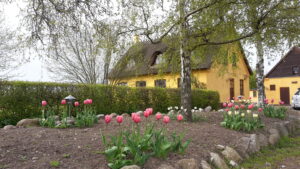 "To meet myself with gentleness is SO strange - and addictive!"
Location
Vissemosevej 14, Rødvig Stevns, Danmark