Do you want better space and time to take care of yourself and what is most important to you?
Or do you SO want to realize a dream?
Or do you just not pay attention when you tell them something to do?
Your vision board can become your reality before you know it
A vision board is a simple and powerful tool to push for the changes we long for. Even if we have no idea what it is.
This day is partly a talk workshop with exercises and reflection, and partly a practical scissors-and-glue workshop. The result you take home: A poster or a drawing that illustrates the life you long for.
With your own vision board you communicate directly with your subconscious, and from my own experience I can report that it has a powerful effect! I would hardly have succeeded in establishing the career and life I enjoy now without this visual support.
In the morning, together we address what holds you back from dreaming: the fear of disappointment, of being laughed at, of not being enough. Through some simple exercises together, I demonstrate how you can step into your dream, even if it may feel vulnerable or foreign.
Bring magazines, postcards, postcards and books with inspiring pictures that can be cut in, and feel free to use the stack I make available. I also offer various drawing and painting tools. You bring glue and scissors yourself.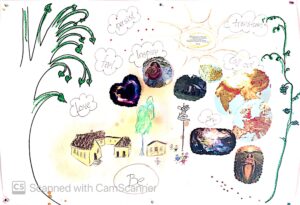 How many participants?
We can be 12 participants.
What does it cost?
The price is DKK 450 per. person. We serve coffee, tea and snacks. You bring your own breakfast.
Where does it take place?
Vissemosevej 14, Havnelev, 4673 Rødvig Stevns.
Bring footwear and a jacket and enjoy the terrain during the break. It takes place in the Fruit Warehouse in the old orchard on Visse Qanter, which houses sheep with lambs, horses, wild nature and regenerative cultivation according to permaculture principles.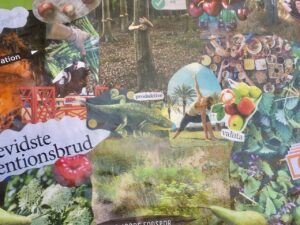 Location
Vissemosevej 14, 4673 Rødvig Stevns
Number of participants
Max 12