Price
300 - 2.000 DKK - you choose
Do you, like me, dream of a world where we meet each other with the heart?
Where gossip and stubborn arguments are replaced by mutual desires to understand - and be understood?
During this weekend you will be introduced to the basic concepts of Nonviolent Communication (IVK). With IVK as a map, it becomes easier to understand both your own and others' reactions, and not least to navigate your important relationships.
You will get to know what Sarah Peyton calls resonance a state where we feel each other with the heart. And you will learn about how your brain plays into meeting other people:
About amygdala hijacking (and the one thing that can help your partner get home again)
About the right part of the brain (and how to access your self-healing power)
And how to create more free space in the brain (and turn down the muzak with self-blame or anxiety)
The weekend will be experience-oriented, and you will get to feel your feelings, get in touch with your important needs, and reflect on what you experience with others. Your security is central, and you decide for yourself how much or how little you want to talk about.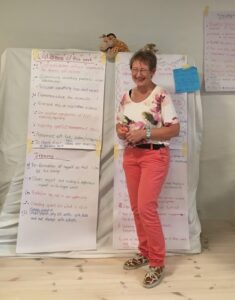 How many participants?
The workshop is intimate, so the ceiling goes to 12 participants.
What is included?
Tuition, coffee, tea and snacks (all organic) are included. You bring your own breakfast. You must also arrange accommodation yourself. Write to me if you want some fif for B & Bs or other accommodations nearby.
What does it cost?
Everyone should have the opportunity to attend this course, and therefore you decide for yourself what you want to pay.
I request a minimum payment of DKK 300, and suggest you choose your contribution on a sliding scale up to DKK 2.000. You will receive an invoice for the amount, and I will pay VAT on it.
When considering what you want to pay, please take into account that I make a living from holding courses, and I spend working time preparing, advertising and completing the course. Are you confused? Choose at the high end if you regularly eat at a good restaurant. Choose at the low end if the money is having a hard time reaching at the end of the month. Otherwise something in between.
Where does it take place?
Vissemosevej 14, Havnelev, 4673 Rødvig Stevns.
It takes place in the Fruit Warehouse in the old orchard on Visse Qanter, which houses sheep with lambs, horses, wild nature and regenerative cultivation according to permaculture principles. Bring footwear and a jacket and enjoy the terrain during the break.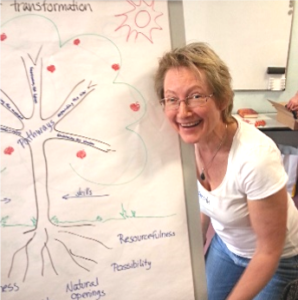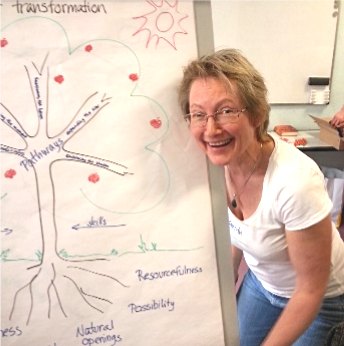 Date
January 22-23 at 10-17
Location
Vissemosevej 14, 4673 Rødvig Stevns
Number of participants
Max 12