Dates
Last Tuesday, from 22 February
In 2022, the practice group will focus on the participants finding their own voice - with dignity and peace
Do you express what is important to you?

Do you have long conversations with yourself if you can say what you want?
Are you afraid of what others will think if you show who you are and what you want?
Do you long to be able to use your attention to go after what you want?
In the practice group, we work with the basic principles of Nonviolent Communication, and we will especially focus on how we can express what we want, as well as say no to what we do not want. With the least possible risk of compromising the relationship.
Every night will focus on a tab of this great topic. You choose whether you want to attend one, some or all of the rehearsal evenings. Participation requires registration no later than the day before. I charge a no-show fee of DKK 200 if you are registered and do not cancel by 11 the same day.
Price: 0-200 kr.
The first time you participate, you pay nothing. Then I ask for DKK 200 per. walk. If you want to participate and the price holds you back, then pay what you can with the joy and dignity intact. I would like to give anyone who would like the opportunity to participate.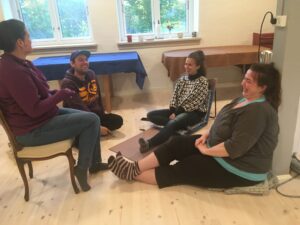 The practice group takes place in the Fruit Warehouse in the old orchard on Visse Qanter, which houses sheep with lambs, horses, wild nature and regenerative cultivation according to permaculture principles.
Place: Vissemosevej 14, Havnelev, 4673 Rødvig Stevns.
Bring footwear and a jacket and enjoy the terrain during the break.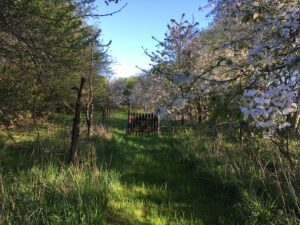 Date
Last Tuesday of the month from March 30th
Location
Vissemosevej 14, 4673 Rødvig Stevns