Duration
Online 2-8pm CET
Working with the inner wounded child in a coaching format
When you support someone, do you see the outline of their original wound?
Is it like your coaching can only support the client this far, and you know deeper healing is possible?
Have you experienced emotional healing, and would you love to know how to offer a healing space for others?
The way we were treated as young people taught us what to expect in this world, and shaped our automatic responses in relationships and in our lived experience in general. So many of us were not met with support, trust, and encouragement, and without this basic, emotional DNA, it gets challenging to be and do what we want and what is needed in this world.
Whereas Nonviolent Communication, Positive Psychology, and other modalities can support our clients (and ourselves) tremendously, many of us have found that we fall back on our original survival strategies when life gets tough. There seems to be encoded a belief system that leaves our clients - and us - with no choice when needing it the most.
This training teaches you how - with the client's consent - to access and operate in those innermost realms where the non-helpful beliefs are rooted. You will learn how to initiate a process that offers space and freedom to choose, even when stakes are high.
Blending what she has learned from Internal Family Systems, Nonviolent Communication, and Sarah Peyton's Resonance Work, Pernille Plantener will offer you a well-composed dish to apply to your coach's menu card.
Who is it for?
This 3-day online training is for you if you know healing of emotional wounds by experience. You may regularly support others and would like to address deeper issues while paying attention to safety, care, and efficiency.
If you have studied Needs-Based Coaching, you qualify. If you are a seasoned NVC practitioner, you qualify. If you have a training as a psychotherapist and would like an introduction to Resonant Healing, founded by Sarah Peyton, this training is for you. If you are attracted without any of the above experiences, connect, and let's discuss your options.
Disclaimer: This is not a training that qualifies you to work with mentally disturbed people. It qualifies working with people who are able to function in daily life routines, yet still partially governed by early traumas. Working with clients who suffer from PTSD, anxiety, depression, eating disorders, and other debilitating mental conditions, requires longer training.
Many decisions are made subconsciously and for reasons the client is not aware of. Reasons that have their origin in painful experiences which their subconscious mind keeps trying to avoid them from re-experiencing. What they are aware of might be a voice defending their decisions against imaginary offenders, or a nagging voice commenting on everything they do in a far-from-supportive language.
Our inner dialogue can be like a chaotic gathering of agitated people, or it can be dominated by one voice that does not allow any other opinion to be heard. As coaches, we want to support our clients to develop the inner dialogue so that it becomes empathic and constructive. The path towards a gentle and supportive inner dialogue goes through healing the wounds of previous hurt.
This workshop is a fully interactive, all-in event. We moedigen deelnemers aan om hun werkelijke ervaringen en uitdagingen aan te pakken. We also welcome shyness and reluctance, and we respect any protective boundary you may have.
For full integration of the material, we recommend you join forces with one or more peers from the program and meet regularly, exchanging coaching, until you feel confident in offering the processes to others.
Practice can be done over phone, video platform or in person.
Costs
To make the workshop accessible to more people, the workshop fee reflects the different financial conditions in different corners of our world.
If you are from the Global South or East where wages are much lower than in the West, your price is 380 EUR.
If you are from Western Europe, North America or countries with similar financial power, your price is 480 EUR.
Both categories go up with 50 EUR after 10th December.
There are a few partial scholarships available. Connect with us and let us know why that may be relevant to you.
As a special bonus, participants can book coaching sessions with Pernille 25% off the usual price until 12 months after the workshop.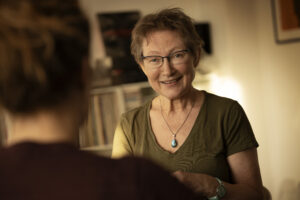 Feedback from participants at similar courses