Examine what your inner critic really wants from you and be reconciled with it so that you can use its positive power without it etching your self-esteem.
Based on i.a. Internal Family Systems and Nonviolent Communication, we offer the critical voice for dialogue coffee.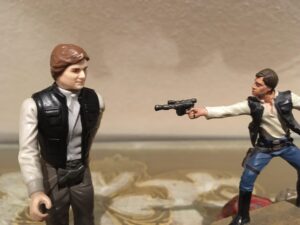 Do you speak harshly to yourself?
Many of us use a language in our inner dialogue that we would never - NEVER accept that someone used towards those we care about. Why do we talk so hard to ourselves?
The errands of this inner critical voice can range from making us aware that we could have done a task smarter or better, to reminding us that we are toe-crunching embarrassing or completely talentless, or even telling us that we do not deserve to live on this earth.
And it hurts!
It can be hard to stay focused and find profits for what we want. It can be so bad that it is disabling. And it is invisible to others.
But why?
We have our personal reasons why this inner voice is after us, reasons that have to do with our history and family. The personal reasons may be mixed with cultural norms of appearance, behavior and success. You may already know that. Do you also know that the critical voice inside wants you well? And it is here to protect you - even when it is most ruthless towards you?
It may not know that you have grown up. It is an integral part of your nervous system, shaped early in your life, and it responds automatically to what is happening around you. The really good news is that we can transform it - not by trying to make it go away, but by entering into dialogue with it.
This weekend we look the inner critic lovingly in the eye.
The weekend will pave the way for a better and more peaceful collaboration with the part of yourself that tends to turn out to be an uncompromising critic. Through presentations, conversations, reflection and rituals, the participants get the opportunity to update their nervous system.
During the course you will:
Learn about how our psyche has evolved in interaction with other people.
Notice that your inner voices want you well, no matter how they speak.
Find a phrasebook so you can translate exactly from language of internal critics.
Embrace the healing of the wounds that have helped shape you.
Bring a map home so you can more easily orientate yourself in the wild terrain of your thoughts.
Deal with some of the contracts your nervous system has entered into that no longer serve you.
Expect more Energy solutions, joy, corporeality og inspiration.
The course price includes one hour of conversation after the course at a time of your choice. Here, in a personal space, you can continue working with the layers you have uncovered over the weekend.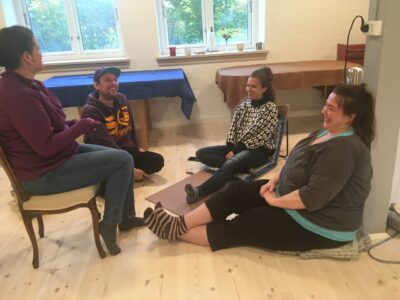 What about Corona?
If the assembly ceiling still applies, it will be the first registrants who get a place. We do a lot to ensure safety and hygiene, and that will be the very first thing we talk about: How we can protect each other from infection.
If the assembly ceiling lapses, we raise the ceiling for the number of participants to 15 people. Our course room is 66 m2, so there is still plenty of air for the individual.
A great place to feel lucky
The course takes place in the Fruit Warehouse at Stevns, less than 10 km from Stevns Klint, where what became the Dinosaurs' final, according to Unesco, is documented better than anywhere else on Earth. The mass extinction 65 million years ago fortunately allowed some small mammals to survive; our ancestors. Stevns is therefore a good place to feel lucky, and it calls for reflection, now that we are in the next mass extinction. We at BusinessByHeart work actively to take care of life on earth, both inside us and in the surrounding nature.
The fruit warehouse is a newly decorated, rustic course room with room for 20 students. It is located as the name suggests in the heart of an old orchard, which we have transformed into a permaculture demonstration site with nature, animal husbandry and fruit and vegetable production as well as caves, campfire sites and joyful views.
The cozy port town of Rødvig is close by, and here there are accommodation options for all tastes and budgets. We work with Rødvig Ferieby, which offers transport to and from Frugtlageret for guests who come by public transport.
Rødvig is the terminus on the local line from Køge. Donkey Republic bicycles are available at the station and at the city's accommodations.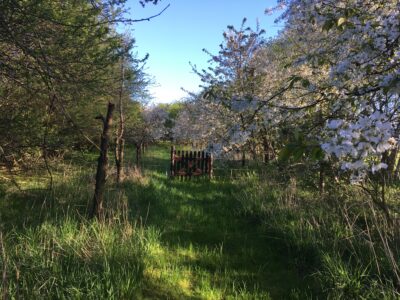 Location
Frugtlageret, Vissemosevej 14, 4673 Rødvig Stevns
Price
DKK 2.200 incl. VAT, which covers:
2 day course with organic snacks and breakfast
60 minutes personal conversation after the course