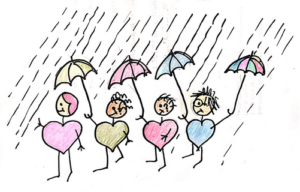 Is it possible to be a part of the world in 2018 and at the same time live in accordance with its values? For example, that everyone's needs count (also for those who have manufactured our goods), respect and equality (also towards people who live in unfavorable conditions and who knock on Denmark's door), and care for nature (and how to get around to contribute to the plastic accumulation in the oceans)?
In dark moments it's as if it's a contradiction. This world has such a high pace with its blind consumption of unnecessary things and dope (entertainment, alcohol, drugs and sugar). We do not know whether the climate crisis will wipe out the life basis of our grandchildren. War and oppression. We are threatened with our health of chemicals and radiation. The occurrence of stress cuts and anxieties is alarming; The exploitation of animals and nature is heartbreaking.
The list seems to be infinite. How can I avoid promoting anything that threatens us when I will pay my bills at the same time and have the opportunity to visit those I love?
Hope?
I'm writing this post from a pessimistic corner, which I do not often visit.
I think of my mother-in-law who looked around when the children were in their most demanding age and were embarrassed by neglect. She said, "However, there is a lot to help you with." This is my approach. Let me do something - anything - and it will make it easier for me to exist in the midst of hopelessness. But not today. Today, jheg needs hope to get back to work.
For my clients, I have also learned that hope is an important factor, especially for those who suffer from chronic illness or pain or are otherwise in a troubled life situation. Hope that their suffering means something or that the sun will eventually burn the fog away and everything will make sense again.
Perhaps my blues is because I did not manage to reach a person in a deep and violent conflict with his ex that I was invited to mediate yesterday. Or maybe it was statistics about how many young people receive anti-depressants and that I'm not even able to help the troubled young people close. Or maybe I just had a less busy day than usual and it gave me room to reflect.
The teachings of Titanic
Thinking of the four musicians in the movie Titanic before the sea swallowed the ship. One stood up and said: "Gentlemen, it has been a privilege to play with you," so he went a short round so confused about, and sat down and played on with the others. Nothing else seemed meaningful.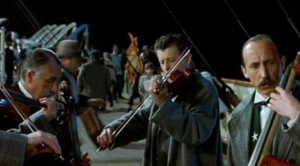 Something in me says; that although it looks black, I owe our descendants my best. With best is to model what I think is the answer to the challenges of the day, and communicate it to others. To understand other people as they wish to be understood; to eat food what is cultivated in respect of nature; to consume goods that I can stand for.
But it's exhausting, and I'm falling back over and over again, especially because it seems reluctant to turn off the light and take the bike to Brugsen when I know the forces that drive development in the world.
In order to keep myself in balance and get up in the saddle when I have fallen off, I need like-minded people to share laughter, tears and compassionate words with.
What I DO NOT need is encouragement á la "You'll see, it's probably not that bad", or pep talks, "Think of all the people you've impacted, you do the all you can," or good Advice: "You should take a look at this movie, you would like it!"
I want to surround myself with people who allow me to cry over this world's direction that seems impossible to course correct; That brings with me and encourages me to continue trying to inspire others to build the world we dream of because there is nothing else that makes more sense.

We are in the same boat
I believe that the community is the key. It is an illusion to believe that our happiness lies in our own hands. None of us are alone. What lies in our own hands is the responsibility for that do something.
If you talk to a friend or colleague who, as I suffer from world flutter, try to avoid encouraging, explaining or giving advice. Instead, try some of these questions that support us to open ourselves to each other:
What is your despair - today?
Who do you share the despair with?
What if what you feel was a normal and healthy response to inhumane conditions?
If there was a critical mass of people who think and dream like you, how would that affect you? What would you do?
Who can you support? And who is from support?
It is not so straightforward to get started on the conversation about how absurd it is to pursue a good life with big car, better house and long trips abroad in this world on the brink of collapse. It is more convenient to talk about car brand, house prices and travel companies - at least for me, as a person who generally wants to create a good atmosphere in the conversation.
But I met some times of hopelessness, and now, after the night is over, and the sun burned the fog away, I believe that the antidote is to talk about and make room for it, discouragement, hopelessness and despair.
rainy List
After a night like this, I'm grateful that I have a list of things that can help me on a rainy day.
My list contains certain music, 'comfort food' - food that seems like pampering, friends I like to talk to. And activities such as walking with the dog or writing. In the darkness of the night, the latter worked for me. This is the result.
How is your rainfall list?
And how can you become the friend who appears on someone else's rainy weather?